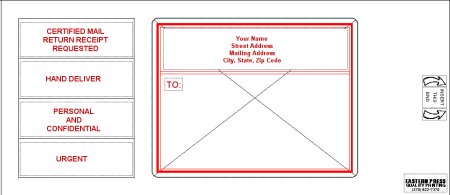 Click Here to View Full Size Example
Printed one standard color - choice of black, blue, red or green.
Eastern Press is proud to introduce our line of Customized Laser Labels. We designed the labels to improve your productivity. Use the envelope printing option of your word processing program to save valuable time and resources.
If you are currently using your computer for word processing and then have to type mailing labels on the typewriter, these Customized Laser Labels are for you. Insert them into your laser or inkjet printer (as you would a #10 Envelope) and print the address.
The smaller side labels can be used to direct the recipient on what is enclosed, whether it be "time sensitive", "personal", "confidential", " hand-deliver", "signature required" or any message of your choice. Ask your office staff how this will make their job easier!
If you have additional questions, please contact us. For added convenience, you can order using our convenient, print-out Laser Label Order Form right here on our site..
Don't forget, we also offer a full line of Raised of Flat Printed Letterheads, Second Sheets and Matching Envelopes.